Rajya Sabha
Details

Category: Rajya Sabha
Last Updated:

Tuesday, 18 October 2016 17:34
Ambika Soni Biography Family Address Contact Website Professional Career, Ambika Soni Rajya Sabha Member from PUNJAB, Ambika Soni , Ambika Soni Rajya Sabha, Who is Ambika Soni , About Ambika Soni Rajya Sabha Member,Address Mobile Contact Details Ambika Soni , Assets Education Criminal Cases Ambika Soni , Profession Liabilities Ambika Soni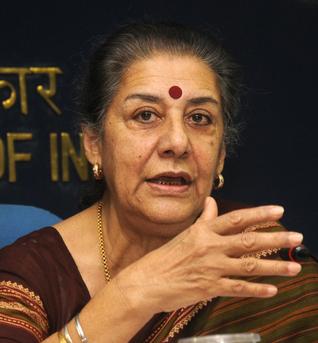 Brief About Ambika Soni Rajya Sabha Member from PUNJAB and Biography.Here are all details of Ambika Soni Address, Mobile, and Contact Details of Ambika Soni. Assets Education Criminal Cases Profession and Liabilities of Ambika Soni
| | |
| --- | --- |
| Constituency | Punjab |
| Name | Ambika Soni |
| Party | INC |
| S/O,D/O,W/O | Shri Uday Chand Soni |
| Age | 73 |
| Address | House No. 82, Village Bajwara, Dist. Hoshiarpur, Panjab |
| Self Profession | Social, Political Activist |
| Spouse Profession | Retired Pensioner |
| Criminal Cases | 0 |
| Education | Post Graduate |
| Total Asset | Rs:1,05,82,52,074 |
| Liablities | Rs:2,88,47,000 |
| Email | This email address is being protected from spambots. You need JavaScript enabled to view it. |
| Contact | 0172-2742775 |
| Children | 1 Son Anup |
| Important positions held | 29 Jan. 2006- 22 May 2009 Minister of Tourism and Minister of Culture and 22 May 2009 - 27 October 2012 Minister of Information and Broadcasting. |
About;
Ambika Soni (born 13 November 1942) is an Indian politician belonging to Indian National Congress. She had served as Minister of Information and Broadcasting. She is a Member of Parliament representing the state of Punjab in the Rajya Sabha.
Early life and education:
Born in Lahore in undivided Punjab to Nakul Sen Whadwa, an I.C.S officer and Lt. Governor of Goa and Indu Nakul Sen Wadhwa in 1942.Ambika studied at Welham Girls School,Dehradun and did her M.A. (Hons.) from Indraprastha College, Delhi University, followed by Diploma Superiore en Langue Francaise from Alliance Francaise, Bangkok and Post-Graduate Diploma in Spanish Art and Literature from University of Havana, Cuba. She got married in 1961 to Uday Soni, an Indian Foreign Service officer.
Political career:
Ambika Soni began her political career in 1969 when she was co-opted into the Congress Party by Indira Gandhi at the time of the Party split in 1969. Soni was an old family friend of Gandhi from the time when her father was posted as District collector of Amritsar during the Partition of India and worked very closely with Pandit Jawaharlal Nehru.In 1975 she was elected president of the Indian Youth Congress and worked closely with Sanjay Gandhi.In March 1976 she was elected to Rajya Sabha. In 1998 she became the president of All India Mahila Congress. From 1999- 2006 she was General Secretary of All India Congress Committee. In Jan. 2000 she was again elected to Rajya Sabha and resigned w.e.f. 10 June 2004. In July 2004 she was again elected to Rajya Sabha. From 29 Jan. 2006- 22 May 2009 she was Minister of Tourism and Minister of Culture in UPA I government. From 22 May 2009 - 27 October 2012 she was Minister of Information and Broadcasting in UPA II government.In July 2010 she was re-elected to Rajya Sabha.